Firefighters' Memorial Day – Thursday, 4th May 2023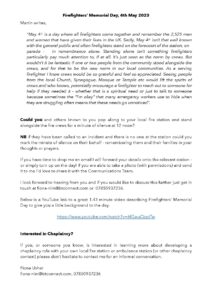 Firefighters' Memorial Day
On Thursday, 4 May 2023 at 12 noon, firefighters at local fire stations will observe a minute of silence to remember all firefighters who have lost their lives in service.
Most of the time they do this alone – as the general public do not seem to be aware of the occasion.  This year it would be lovely if they were joined in their minute of remembrance.
If able, would you have time to pop along to your local fire station to stand alongside them at 12 noon on Thursday, 4 May?
If they are out on Call (which is always a possibility) would you / others mark the minute of silence for them – and pray for them and their families.