2022
E-Newsletter Issue 84 – 28 January 2022
It's that time of year again when our minds turn to regional and national meetings. Planning is well underway for the Northern Synod meeting in March and there are places for URC members to attend the next General Assembly in July. Book the dates and step forward if you have ever fancied being a Northern Synod rep at General Assembly – it's not that scary and you know you want to!
With an ageing population, there are two events that may be of interest to those either involved in worship and pastoral care for those in later life or looking at faith in later life. If you are involved in any way with young people, don't miss the online youth mental health course, especially at the moment when we hear of the increasing pressures for younger people.
You may know about Messy church but do you know about Muddy Church? And if you are supporting parents, why not set up a 'Who Let the Dads Out' group.
Find out how Roker URC provided a perfect setting for children and young people with autism and disabilities at Christmas and read about Ministers in Residence at Keld.
E-Newsletter Issue 83 – 21 January 2022
We may be only three weeks into 2022 but this doesn't stop us from thinking about events later in the year. Join us on the Synod spring retreat or sample a flavour of the autumn residential on 'Leading Your Church into Growth'.  Don't forget the Big Harvest – start planting now, and if you want to be super organised, there are only 338 days to Christmas!
We have another great IT skills drop-in session coming up and don't miss our Green Apostle's offer to lead worship at your church. You could also pop into the 'Jesus in Islam' exhibition.
Anniversaries and celebrations are still aplenty with a 90th birthday celebration and fun things to buy for the URC 50th anniversary.
Sign up to get involved in Fairtrade fortnight and pray for refugees as the Nationality and Borders Bill passes through Parliament.
E-Newsletter Issue 82 – 14 January 2022
Have you noticed that the days are getting longer? Isn't it wonderful! That's not to say that the worst of the cold and damp is behind us but we can begin to see signs of new life and Spring not too far away.
While St Mark's in Amble have closed their church building they are looking forward to a new form of ministry in the community. Read a poignant farewell in the closing stages of the move. St Cuthbert's Centre is also looking forward to developing its ministry of hospitality on Holy Island and seeks new members for its management group.
Feeling creative? Then why not enter the URC at 50, Worship Resources competition and make a mark on this special anniversary. Or if sewing is more your thing, then you could make a panel for a very special quilt that will be seen worldwide. For the young and young at heart, colour in a picture and a donation could be made on your behalf to the Christian Aid Afghanistan appeal.
If you run an innovative community project then you could be in for a chance of receiving a £2000 award. And ICYMI, make sure that if you run a cafe or sell food you comply with the new Natasha's law.
Still looking for that dream job, or want a new challenge? Maybe joining the Synod team as the Learning and Development Officer could fit the bill or become an Eco Church Officer with A Rocha UK.
E-Newsletter Issue 81 – 7 January 2022
Happy New Year to you all! We hope you had a peaceful and relaxing Christmas and New Year.
As we start 2022 we are delighted that the URC celebrates its 50th anniversary this year. Don't miss out on the many events and resources that are being made available. 2022 also sees the 70th anniversary of the reign of Her Majesty the Queen and there is a special URC service for churches to use.
Don't miss out on the training days for lay presidency at communion or the monthly talks focussing on the themes of the environment, economy, and faith.
COP26 might be a distant memory but the climate crisis continues apace. Find out what churches can do going forward and rather than sending red roses in February, send a green heart instead. If you've wondered what to do with your old plastic Christmas sweet, cracker, or biscuit tubs, maybe St George's URC in Morpeth can help.
Dive into our new monthly series 'Meet the Team' and find out how our Moderator spends his time. And how well did you do in our 'Meet the Team' quiz?
Have a good week and stay safe.
E-Newsletter Issue 87 – 18 February 2022
We hope you are surviving the latest round of extreme weather brought to us courtesy of storms Dudley and Eunice. It has been a miserable few months weather-wise but you could always brighten your day with one of the stunning new limited anniversary edition URC ties!
Next week sees the first of two online events when you can help shape the future patterns of ministry in the Northern Synod, Please make the time to join this very important discussion. And for the first time in over two years, we are delighted to be able to meet in person for the next Synod meeting.
If you are curious about learning opportunities to develop your faith or role within the church, then check out what the URC Resource Centres have to offer.
Take action to stop further drilling for fossil fuels in the North Sea and see how you can help to challenge tax inequality. Find out about the financial implications of the proposed Nationality and Borders Bill and help reduce clothing going to landfill whilst raising money to tackle poverty.
Don't forget next week sees the start of Fairtrade Fortnight and the Christian Aid online conference with lots of interesting and informative sessions. And how about striking the #BreakTheBias pose for International Women's Day.
There is no newsletter next week but we will be bouncing back on Friday 4 March.
E-Newsletter Issue 86 – 11 February 2022
Another bumper issue this week. Grab a cup of URC Jubilee coffee, find a comfy seat and enjoy!
We are delighted to invite you to the Synod day of celebration in July for the URC 50th anniversary year. We hope to see lots of you there.
Read important safeguarding information about meeting in private dwellings, don't miss the excellent worship and learning resource for Racial Justice Sunday this weekend, and apply for free Bibles for your young people.
There are loads of things to do and join, as well as read or watch for Lent and Easter including a new children's Easter booklet written by Bob Hartman who is also now leading two great workshops for us.
If you are working towards ensuring your church is open and inclusive to all, then a new booklet on children and young people with autism may be of interest and you might want to be added to the inclusive church directory.
Have a great week everyone!
E-Newsletter Issue 85 – 4 February 2022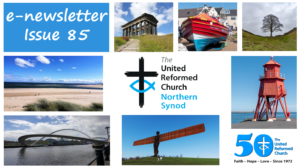 Well, what a weekend that was with storms Malik and Corrie bringing more disruption and damage to our area. We do hope that you managed to get away with little or no loss of power, roof tiles, or worse.
Things are really starting to take off this year with lots of events coming up in the Synod and so many vacancies this week. Book the dates for our online creative conversations on the future of ordained ministry and sign up to have a healthy church. Places are still available for the great session with Bob Hartman and join in one of the many events to be hosted at Hartlepool URC.
If you ever thought about becoming a volunteer Street Pastor now is your chance to apply and watch a really interesting BBC programme on their work.
Find out about the Churches Mutual Credit Union, or could you wear just ten items of clothing for a month – underwear excluded!
Is your church a friendly church? We would all like to think so but maybe churches are dying due to friendlessness.
And finally, meet Lisa Stoker in our Meet the Team series – she is definitely very friendly!
Have a great week everyone!
E-Newsletter Issue 90 – 18 March 2022
Our prayers and thoughts continue to be with those who are affected by the conflict and violence in Ukraine and those who are working for peace and reconciliation.
As the fighting intensifies and people continue to suffer, we may find ourselves struggling to cope with the constant stream of distressing news that bombards us. Take time out to care for yourself.  Listen to the beautiful new music from John Rutter, make peace prayer doves, pray, complete craft activities, or go on reflective walks.
Find ways to help those who are affected. You may want to stand with women and children fleeing Ukraine with calls for their better protection and read the statement produced by West End Refugee Service.
We have news from Mozambique and a new church community award has been launched in Amble. Find out how to set up an Instagram profile or how to support someone with dementia.
Book now for safeguarding training or a free meal at Newcastle Central Mosque. Don't miss out!
The Northern Synod meeting takes place tomorrow in person and we would love to see you after so long.
Sadly, no newsletter next week but we will be back on 1 April.
E-Newsletter Issue 89 – 11 March 2022
This week has seen further atrocities in Ukraine, the like of which we had not thought we would ever see in Europe again. Read a thoughtful reflection from Roberta Ritson and access prayers and other resources to support us as we support those involved in this conflict.
Don't miss the 'How to Do: Community' session which is being held this evening – the first session was a great success.
Lots of events for those involved with children or young people. Sign up for the Parenting for Faith course, appropriate for anyone with child-caring responsibilities, find out how to engage with schools and colleges, and join a special information event for those involved with siblings of children who have a rare disease.
Young people find a voice in the new book compiled by URC Youth member Victoria Turner and for the young and young at heart, it's time to book for the Greenbelt Festival.
Newcastle Central Mosque invites you to a three-course meal and find out how our financial decisions can help shape a fairer world along with guidance on ethical buying for churches.
E-Newsletter Issue 88 – 4 March 2022
Who would have thought when we issued the last newsletter two weeks ago, that the world would be so radically different now. We are all shocked and horrified by the military attacks on Ukraine and its people and we pray that peace can quickly be restored.
While we as adults watch on in horror, how do you talk to children on matters of war and conflict? We have some guidance that may be helpful. Want to do something to help but not sure what? We have some suggestions that may assist you.
Closer to home the URC nationally along with other faith leaders have challenged MPs and the Prime Minister on two key Bills passing through Parliament. All Christians are invited to sign a letter to the Secretary of State in support of banning conversion therapy and don't forget to send your comments to the URC Legacies of Slavery consultation.
Lots of local news and events this week. New safeguarding training dates have been released and the second in the series 'How to' looks at working in the community. The first session was a great success so don't miss this one! Read the latest news from our Rural Consultant and meet Trevor Jamison, our Green Apostle.
How are your preparations going to celebrate the URC 50th anniversary? We have resources to help you and an invitation to plant a tree or even two!
E-Newsletter Issue 92 – 8 April 2022
Can you believe that it is almost two years since the first issue of the Northern Synod e-newsletter was first produced? Circulated at the beginning of the first COVID lock-down it was hoped that it would act as a link between churches and provide a platform for sharing the ever-changing news and rules during the pandemic as well as providing local, regional, and national news from the URC and beyond.
Two years on and COVID is still with us although we are 'learning to live with it' and we are facing another totally unexpected crisis, a war in Europe. No one's lives have been untouched by the events in the last twenty-four months and I hope that the e-newsletter has informed, guided, and maybe inspired, challenged, and occasionally amused you during these difficult times.
The reason for these musings is that this is my last issue as editor. I would like to say a big thank you to everyone who has contributed to the newsletter in any way. I would especially like to thank those who have provided a weekly reflection without complaint even on the second or more times of asking, photographers, event sharers, news providers, and feedback givers. Big thanks also to Wendy and Andrew who helped steer things in the background.
The e-newsletter is now taking a short break but will be back in a few weeks.
Have a very happy and blessed Easter.
Maureen
E-Newsletter Issue 91 – 1 April 2022
We continue to be shocked and saddened by the ongoing conflict in Ukraine. The support for Ukraine and the people affected by the crisis grows daily and unsurprisingly there are a number of items this week regarding the situation.
Take part in an act of witness from the Christian community in the UK and Ireland this Sunday as we pray for Ukraine. Kevin Watson's thoughtful reflection echoes the thoughts of many at this time and do support a lent lunch for Ukraine if you can.
On a happier note, we send our congratulations to Roker URC and Fliss Barker and invite everyone to join us for a fun day at Beamish and a special anniversary service to celebrate the URC's 50th Anniversary.
For those looking for creative activities don't miss the deadline for submitting your entry to the anniversary worship resource competition or maybe make a heart to send to your MP. Find out what happened to all those wonderful pom-poms that were made before and during the lockdown and read the final COVID prayer from the URC at the end of two long years.
The Moderator encourages us all to engage with the Legacies of Slavery consultation and church leaders are invited to contribute to research on children's ministry.
Last but not least welcome to Bonnie, our latest Synod team member.
E-Newsletter Issue 93 – 20 May 2022
After taking a short break, the Northern Synod Newsletter is making a welcome return.  Many thanks to Maureen for all her hard work in sending out the Newsletter over the past two years.  The editorship of the newsletter is now in the hands of Lisa and Wendy in the Synod office.
If you have any items that you would like to be included in the newsletter, please send them to wendy.watson@urc-northernsynod.org or newsletter@urc-northernsynod.org and we will do our best to include it.  The newsletter is going to be sent out fortnightly from now on, so please bear that in mind when submitting your articles and information.  Due to the upcoming Bank Holiday weekend, the next newsletter will be published on Friday 10 June.
In this issue we are including further details of the Beamish celebration event in July as well as a round up of news from around the Northern Synod and further afield.
Hope you enjoy the Bank Holiday and let us hope for good weather !
Lisa and Wendy
2021
2020
Weekly E-Newsletter 27 November 2020
This week in our e-newsletter, we reminisce about Advents past, and look ahead to virtual and physical activities for Advent and Christmas.  There's also plenty to make you think.
Weekly E-Newsletter 20 November 2020
Our 31st e-newsletter brings more ideas and inspiration for you.   There is a reflection on the rich history of trusting in God, and we have some tasters ahead of our Christmas concert.
Weekly E-Newsletter 13 November 2020
This week's e-newsletter is a veritable potpourri of goodies for you.  There are learning opportunities, and things to do, read, or join in!  There's even a cute relaxing animal video.  We also share a word of encouragement from the Old Testament.
Weekly E-Newsletter 6 November 2020
After the success of October's Festival of Tents, our e-newsletter issue 29 follows on with a chance to see again John Bradbury's reflections at Synod, the winners of the photography competition, continuing morning prayers, and news of a Lundie award, a Holy Habits at home group, and an Advent concert.  Peter Rand reflects on patience and learning a new skill, and there's lots more inside to read…
Weekly E-Newsletter 30 October 2020
Issue 28 of our e-newsletter reflects on the wonders of the world, and our need to take better care of it, and the people in it.  Read more about online church, holiday hunger, and resources for Christmas, along with news, information and events… and find out what you can do with 2000 marbles!
Weekly E-Newsletter 23 October 2020
Today's e-newsletter comes in the midst of our fantastic Festival of Tents.  We reflect on visual storytelling, along with more news, ideas, activities and events.
Weekly E-Newsletter 16 October 2020
Our 26th E-Newsletter marks half a year since the start.  Who would have thought it?  Our Moderator reflects on our fortnight's Festival of Tents, which opens tomorrow.  Read also more ideas, events and activities, a face-mask song, and looking ahead to One World Week
Weekly E-Newsletter 9 October 2020
Our 25th e-newsletter reflects on an abundance of apples, with thanksgiving for the harvest and for sharing.  There is also news, details of our Synod meeting and Festival of Tents, a photography competition, resources on black history month, a call to reset the debt, world mental health day, events, ideas, and more
Weekly E-Newsletter 2 October 2020
In this week's e-newsletter, we reflect on the dilemmas around returning to worship in church buildings, and how different it feels.  We also welcome a new member to the Synod team, and share news, ideas, resources, events, including how to have creative conversations….