Memorial Event – Tuesday, 5th July 2022
In Memory of the Victims of the Bosnian Genocide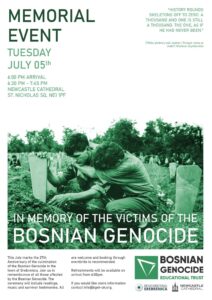 A Memorial Event on Tuesday, 5th July 2022
at Newcastle Cathedral, St Nicholas Square, NE1 1PF
6.00 pm Arrival.   6.30 pm – 7.45 pm
This July marks the 27th Anniversary of the culmination of the Bosnian Genocide in the town of Srebrenica.  Join us in remembrance of all those affected by the Bosnian Genocide.  The ceremony will include readings, music and survivor testimonies.
All are welcome and booking through Eventbrite is recommended.
Refreshments will be available on arrival from 6.00 pm.
If you would like more information contact info@bget-uk.org