Introduction to Safeguarding for Elders Webinar
Tuesday, 14 June 2022 7.30 pm Thursday, 21 July 2022 2.00 pm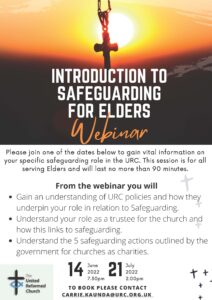 Please join one of the dates below to gain vital information on your specific safeguarding role in the URC.  This session is for all serving Elders and will last no more than 90 minutes.
From the webinar you will
Gain an understanding of URC policies and how they underpin your role in relation to safeguarding
Understand your role as a trustee for the church and how this links to safeguarding
Understand the 5 safeguarding actions outlined by the government for churches as charities.
Tuesday, 14 June 2022  – 7.30 pm
Thursday, 21 July 2022 – 2.00 pm
To Book please contact: carrie.kaunda@urc.org.uk