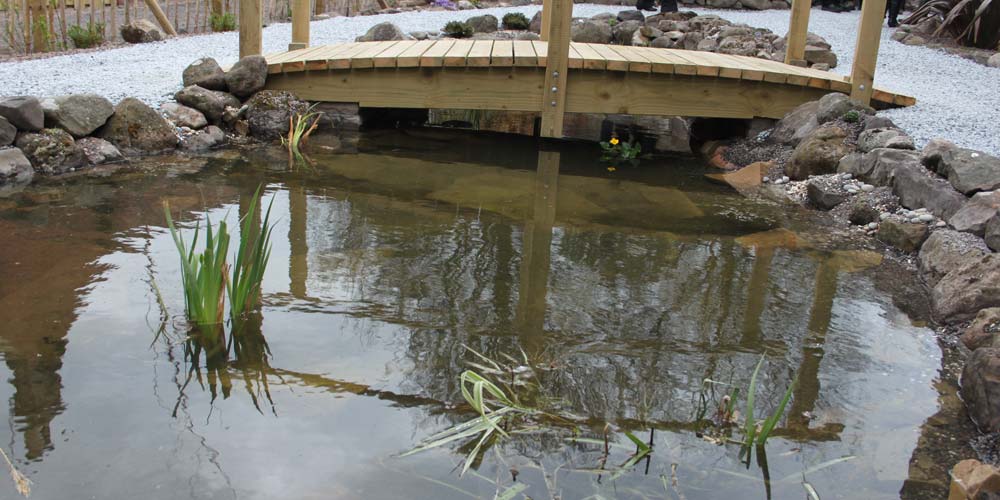 CROOKHAM PEACE GARDEN
The Flodden Peace and Reconciliation Centre and Peace Garden is situated at our Crookham church in north Northumberland, close to the site of the Battle of Flodden. 
The Peace Garden was opened in May 2013, just a few weeks before the 500th anniversary of the battle. Laid out around three sides of the United Reformed Church, the garden, designed by Selkirk garden designer Dougie James, takes the form of a succession of areas representing various "energies", leading up to the Peace Garden itself where a bridge spans an area of water, "reflecting the beauty of our reality here and now".The Garden and Centre are part of the Flodden 1513 Ecomuseum 
An interactive 1513 timeline recording key moments of conflict and peace during the last 500 years is currently being developed in the Garden; and as part of the Ecomuseum the Centre regularly  hosts lectures, arts and music events. 
For more details and directions  visit  the Flodden 1513 website – 
or ring Revd Mary Taylor on  01896 756990 
Related Link
http://www.flodden1513.com/index.php/site/subpage/introduction/Flodden